Living by the sea can be a luxurious and unique lifestyle, offering fresh sea air, stunning views, and natural light. The sound of the waves, the smell of saltwater, and the feeling of sand between your toes make living by the sea special. This is both peaceful and invigorating, providing a sense of calm and tranquility, and encouraging a healthy and active lifestyle, as well as a close connection to nature.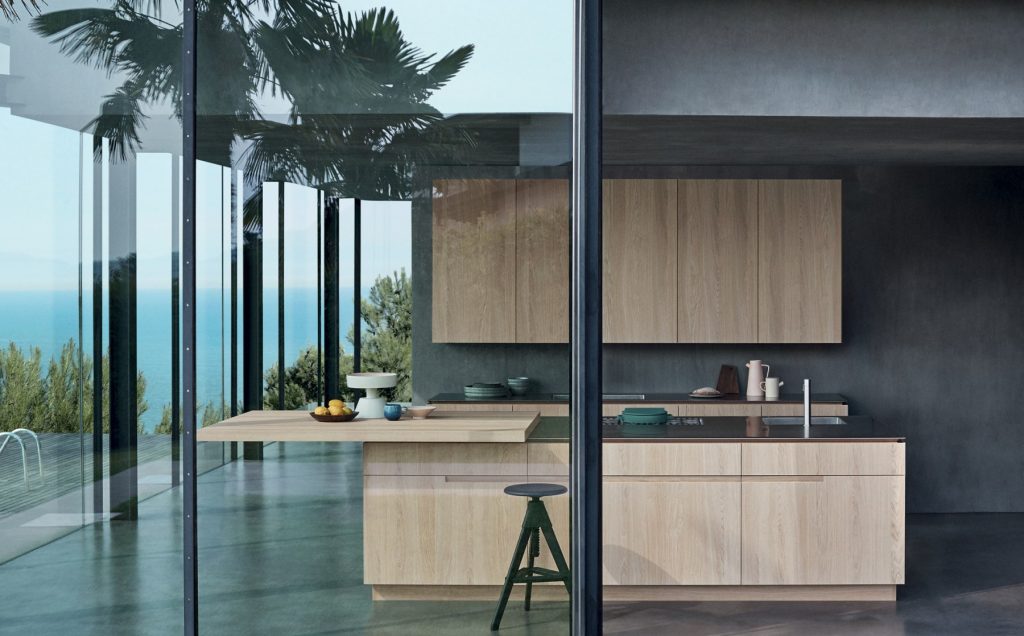 Designed for Coastal Living
When it comes to the architecture and design of homes by the sea the focus is often on natural materials, light, and open spaces, reflecting the natural surroundings. Large windows and sliding doors are incorporated to allow natural light in and create an indoor-outdoor connection, making the most of the beautiful views and natural environment.
Informal lifestyle with Cesar N-elle Kitchen
Cesar's N-elle line of kitchens is the epitome of elegance and simplicity, and adapts perfectly to coastal living and an informal lifestyle of entertainment and friendship.
Natural materials like warm Nordic oak  and gleaming reflective stainless steel, paired with a kitchen top in sophisticated grey Saint Laurent marble integrate the kitchen with its natural surroundings.
The N-elle collection combines functionality with a touch of luxury, creating a truly unique and stunning kitchen that is practical, beautiful, and perfect for a "cena aperitivo" with friends.
Indoors and outdoors with Cesar Williamsburg Kitchen
The Cesar Williamsburg is a kitchen and workplace that embodies practicality and elegance, inspired by the classic beauty of modern-era bridges. The sturdy, solid structure and sleek, horizontal surface provide a harmonious balance between strength and lightness and are a perfect place to prepare culinary masterpieces. With different materials and components, the Williamsburg is perfect for entertaining guests in a relaxed and sophisticated setting, whether it be indoors or outdoors.  
Not only is Williamsburg visually stunning, but it is also highly functional. Its two lateral supports and worktop with drawers, trash cans, shelves, and a cover for utilities make it a practical addition to any kitchen. The worktop is perfect for cooking, prepping, serving and eating – a versatile island with style and functionality.
Williamsburg is made with top-quality materials including porcelain ceramic and AISI 316 stainless steel; it is practical and will last for years
Interested in a specific brand or product?