Enhancing Patios and Outdoor Spaces with Style
Let's explore the art of enhancing outdoor spaces, patios, and gardens through carefully selected and stylishly arranged furniture. Discover how luxury modern outdoor furniture can raise the bar of your outdoor living experience to new heights of comfort and sophistication.
Luxury modern outdoor furniture
When it comes to outdoor furniture, luxury meets contemporary design in this curated selection. These pieces are not only functional and comfortable, but also exude elegance and style, making them the perfect additions to any outdoor setting.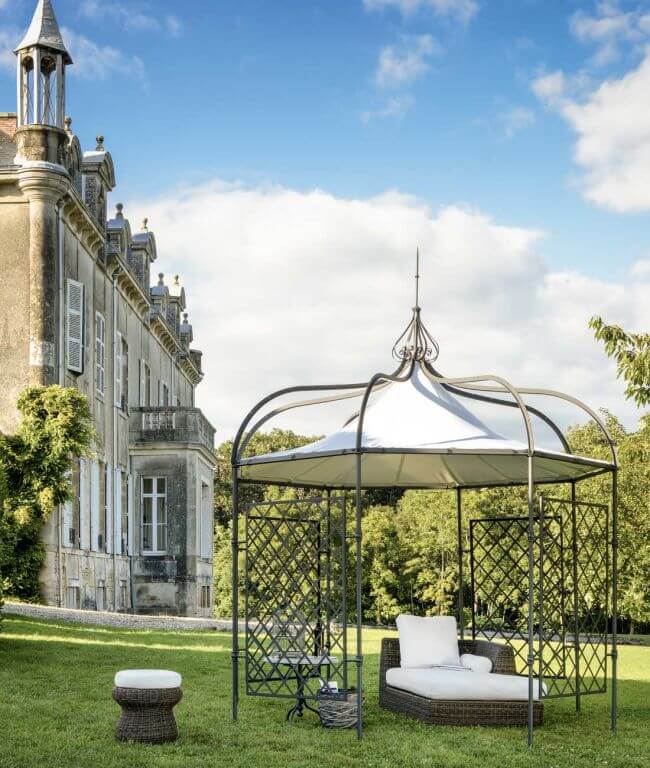 A selection of outdoor furniture of the highest quality
The collection features outdoor furniture crafted with the utmost attention to detail and quality. Each piece showcases exceptional craftsmanship and materials, ensuring longevity and durability in outdoor environments.
Outdoor chairs and outdoor tables
Gran Kobi Outdoor by Alias by Patrick Norguet
The Gran Kobi Outdoor armchair, an extension of the Gran Kobi collection, offers a generously sized, low armchair for ultimate relaxation. Its steel rod-woven shell, supported by a die-cast aluminum base, creates a seamless blend of aesthetics and comfort, making it an ideal fit for green surroundings.
Welcome Lounge Chair in teak and cord by Unopiù
The Welcome outdoor lounge chair from the Unopiù modular collection combines steam-curved teak slats with handwoven cord, showcasing a harmonious fusion of craftsmanship and style. With a wide range of cushion colors available (30+), you can create a personalized ambience that suits your taste.
Alias' Green PVC Outdoor chairs designed by Giandomenico Belotti
The Green PVC collection impresses with its stainless-steel structures and seats made from polyester PVC or PVC round rod weave. Fabulous for open spaces, these chairs, armchairs, stools, and chaise lounges add a touch of modernity to any outdoor setting.
Quadra sofa in teak by Unopiù
The Quadra sofa collection introduces a new level of customization and versatility. With a teak structure and handwoven synthetic cord, these sofas evoke a Nordic flair and are easy to disassemble and modify, making them fit for both indoor and outdoor use.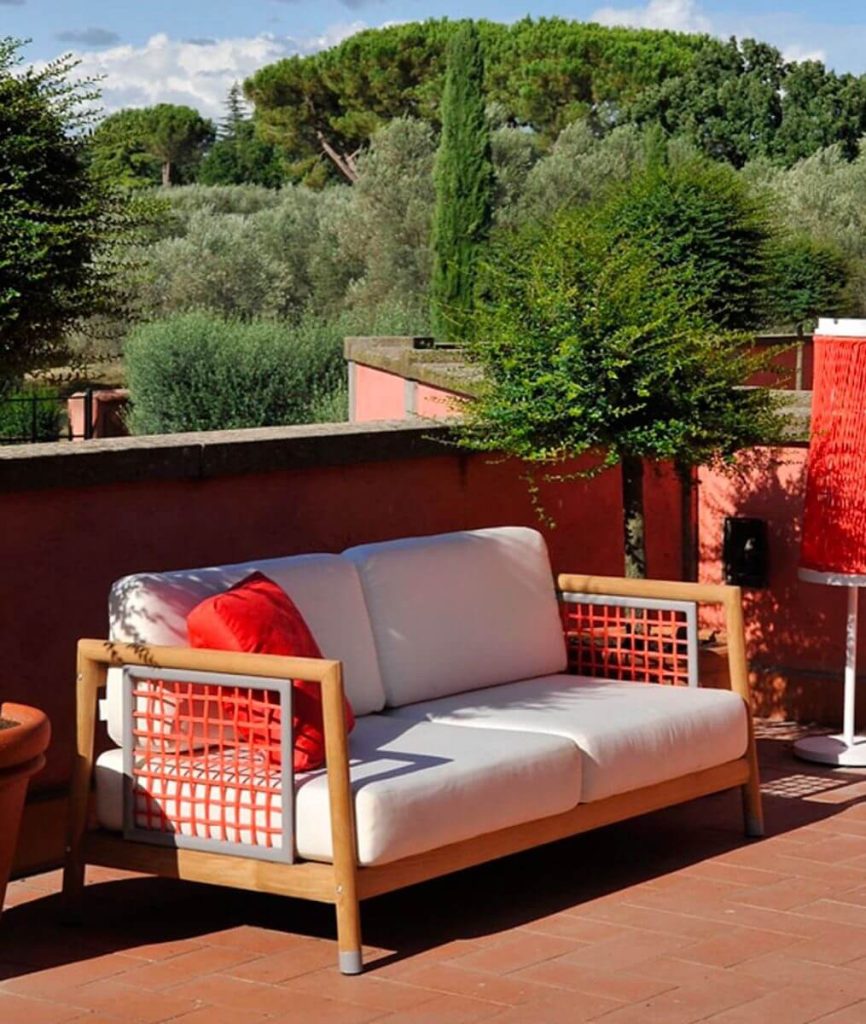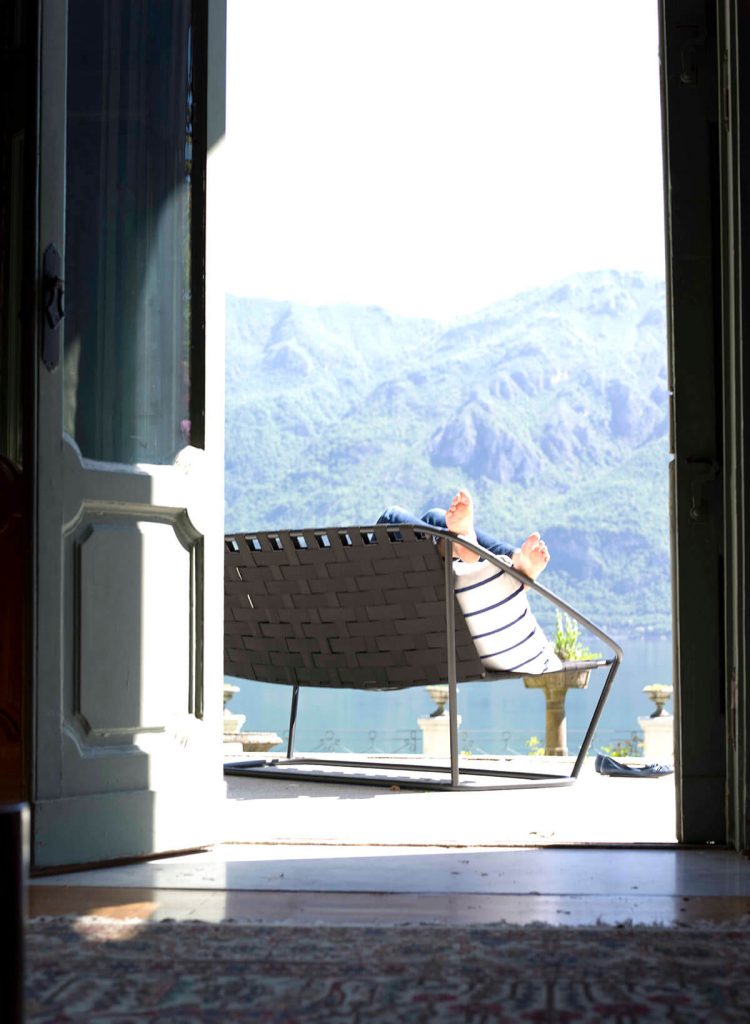 Cloud Collection, designed by Carlo Colombo for Arflex
The Cloud outdoor furniture collection showcases clean lines and shapes, inviting you to embrace a lifestyle closer to nature. Experience unparalleled comfort and style with these contemporary classics.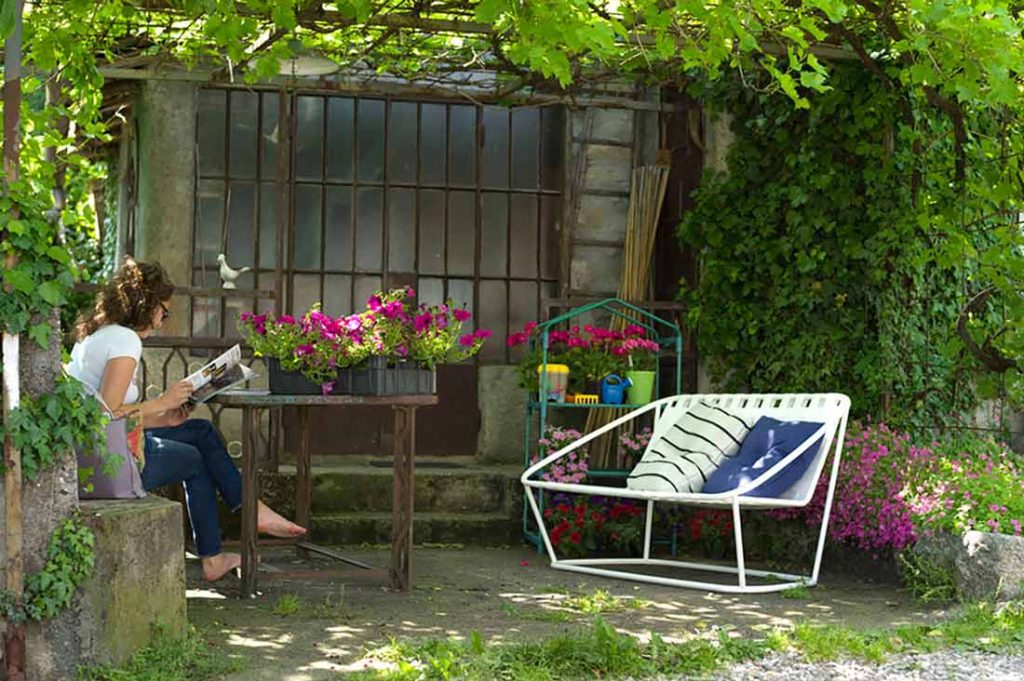 The Frame collection features comfortable and elegant chairs, armchairs, and chaise lounges, perfect for private parks or outdoor patios. Crafted from polyester-coated PVC and aluminum, these seats are suitable for any outdoor setting.
Swing stacking chaise longue in teak by Unopiù
With its curved teak slats, the Swing chaise longue exudes an elegant, Oriental-inspired design. Elevate the chaise longue from the ground up with the stainless-steel support for added convenience.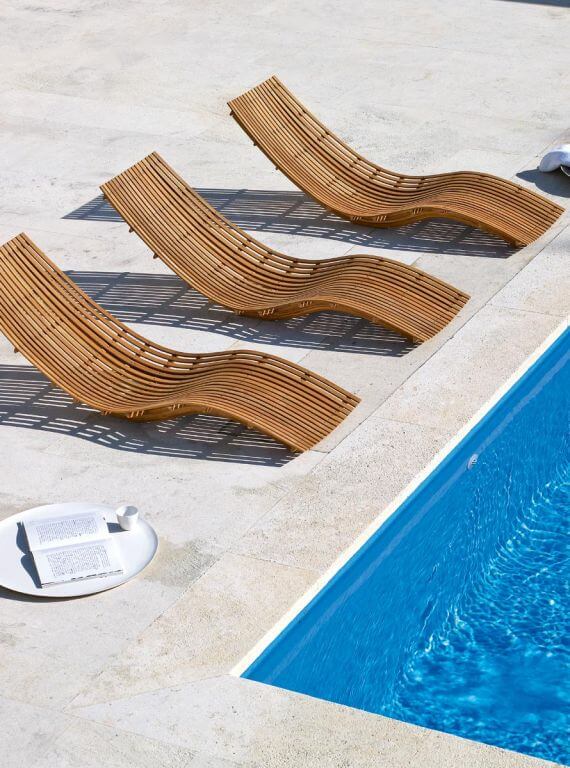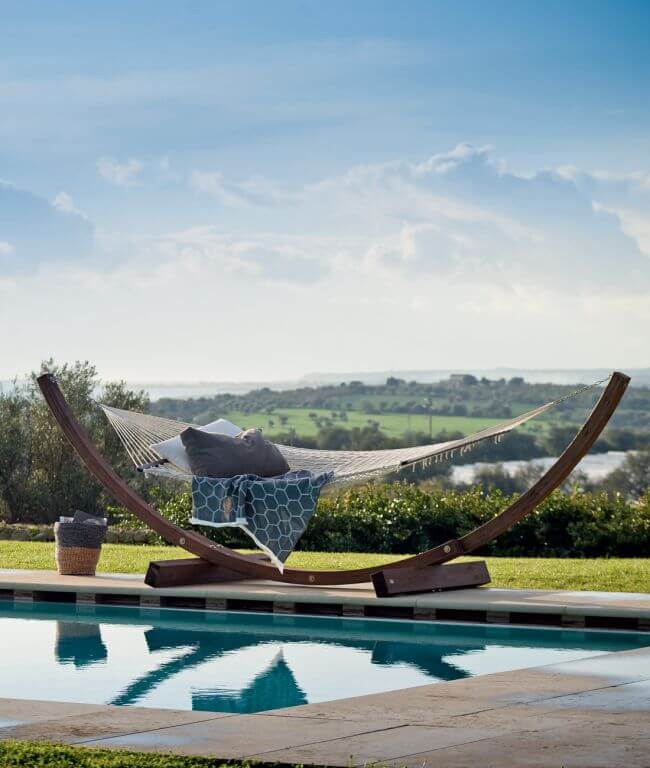 Amanda Outdoor Hammock by Unopiù
Experience comfort and style with this timeless hammock that needs no introduction. The iconic Amanda hammock showcases a clever combination of curved lamellar wooden poles and handwoven cord net. It can be placed anywhere.
Agape's "Bjhon 1" by Angelo Mangiarotti
The Bjhon outdoor washbasin features a highly sculptural design, supported by a truncated conical column. Made from marble or advanced technological material, these washbasins are an exquisite addition to any outdoor setting.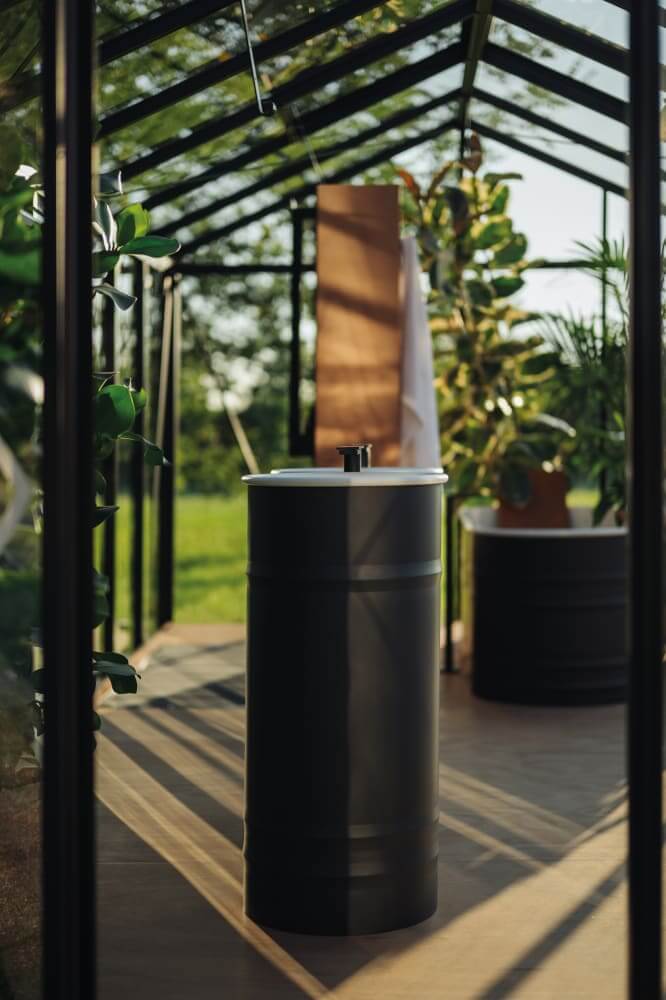 Agape's Vieques designed by Patricia Urquiola
The Vieques outdoor washbasin echos the style of the bathtub of the same name, offering a refined interpretation of bygone days with a touch of nostalgia. Made from stainless steel, these washbasins are available in various color options.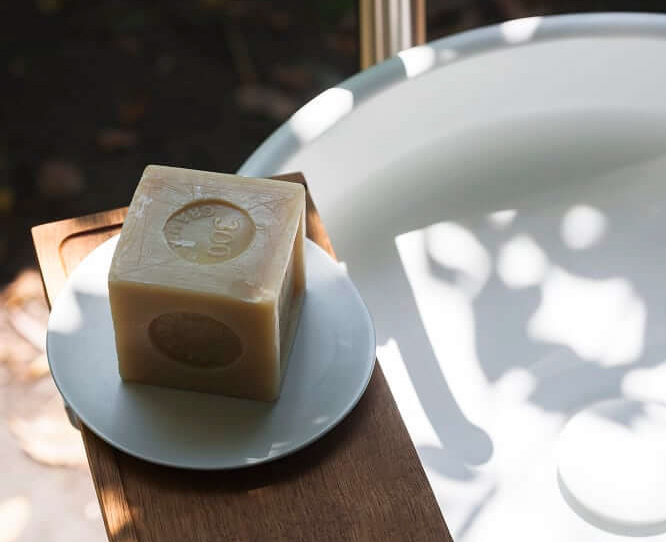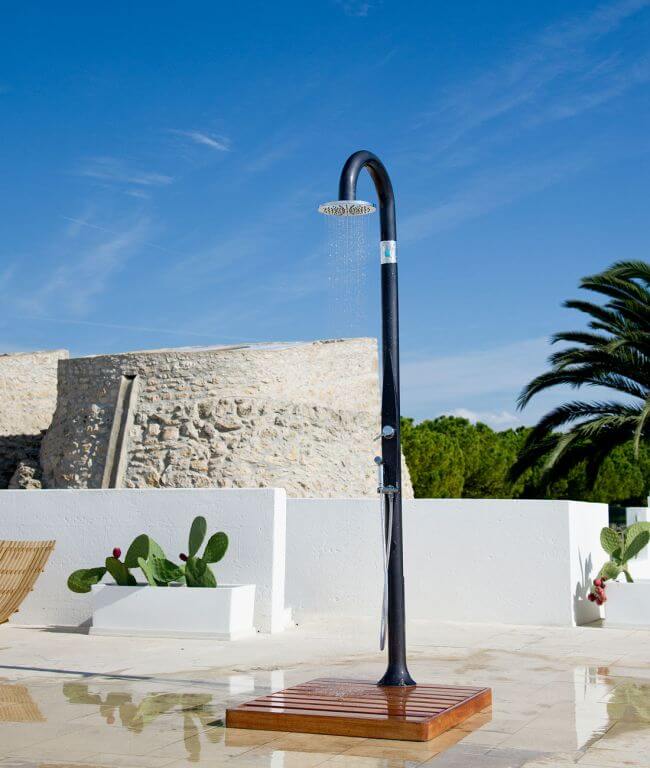 Solar hot water shower by UnoPiu
The Solar outdoor shower by UnoPiù provides hot water heated by the sun using a black resin water reservoir.  Enjoy a warm or cold shower by the pool, in the garden, or even on a terrace.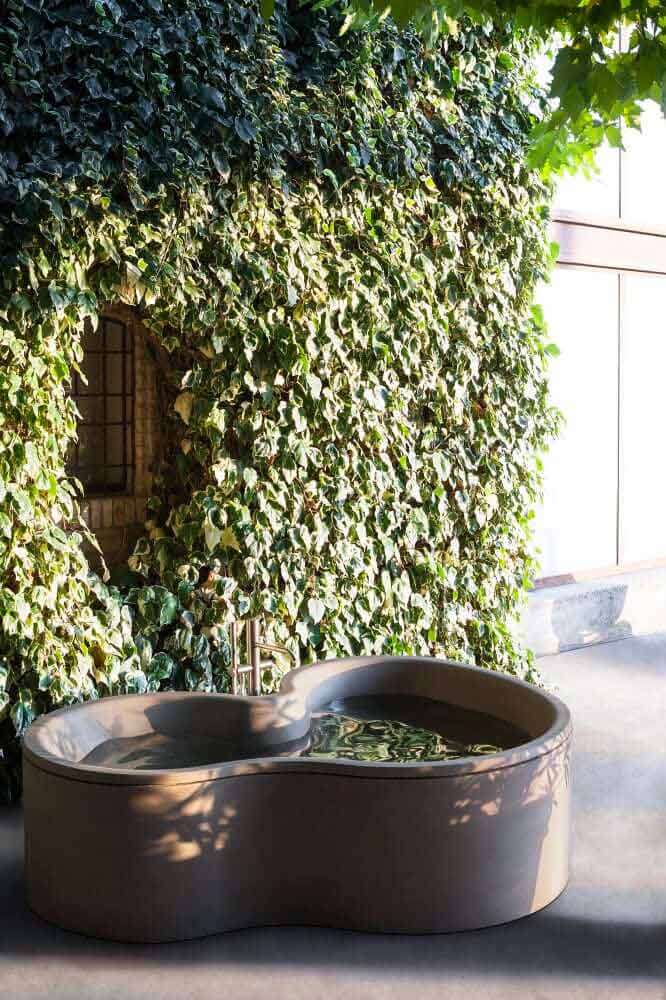 Agape's DR Cemento by Studio MK27, Mariana Ruzante, Marcio Kogan
The DR Cemento outdoor bathtub, realized in Cementoskin®, adds a contemporary touch to any outdoor setting. Available in freestanding or built-in versions, this bathtub is designed for relaxation and comfort for 1,2, or 3 persons.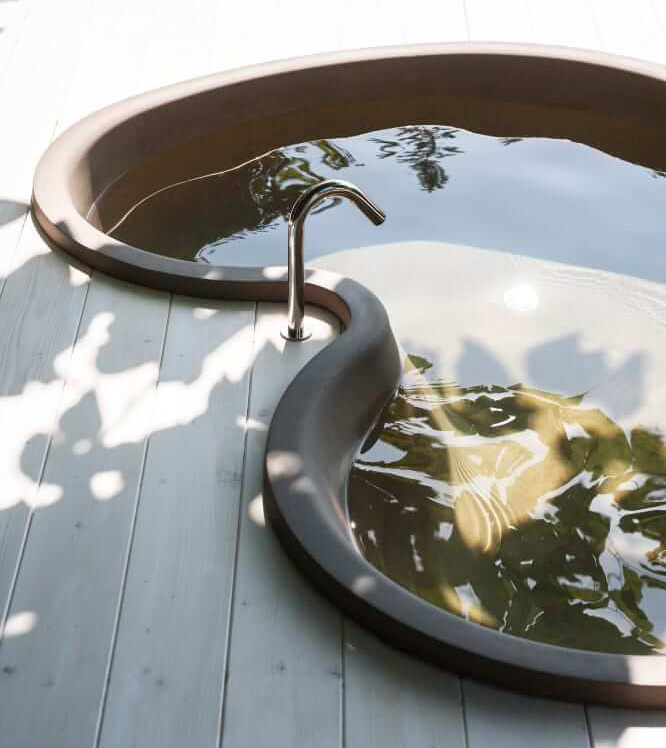 Step Outdoors with Timeless Elegance: Discover Our Luxury Outdoor Furniture Collection
In conclusion, creating an inviting and stylish outdoor living space is within reach with the exquisite selection of luxury modern outdoor furniture showcased here. From sophisticated chairs and tables to comfortable sofas and beach chairs, each piece is carefully crafted to raise your outdoor experience to new heights of comfort and elegance. Whether you're seeking to relax in a hammock, enjoy a meal in the open air, or simply unwind on a cozy sofa, these exceptional outdoor furnishings offer the perfect blend of aesthetics and functionality.
Are you ready to transform your outdoor living space into an oasis of luxury and comfort? Explore our exclusive collection of outdoor furniture and find the perfect pieces to suit your style and taste.