Elegant space saving solutions for the modern home office and living space.
More and more people are working from home, at least part time. For some it is welcome, for others it is not easy given the distractions of family, deliveries, home repairs, pets.
How one organizes space for a home office is a challenge, especially if there is no room for a separate office space. It is a very personal task that depends on your space, budget, and professional requirements.
Factors to consider when setting up your home office
There is much information and advice available on how to set up a home office, here a few tips: 
Location: often the best options are the bedroom or living area where space can be divided with a partition, and the office can somewhat separate.
Natural Light: try to make use of available natural light where possible, it helps your efficiency and mood.
Lighting: choose a good task lamp, ambient light is not enough.
Colors: choose light colors to enlarge the space and darker shades to make it seem smaller
Working surface: a good work surface – desk or otherwise– is key. The desk can be integrated with surrounding furnishings and add to your décor.
Comfortable chair: the options range from a simple task chair to executive multi positioned high back chairs. The chair needs to be comfortable while seated but one advantage of working from home is that you can get out of your chair and move where and when you want.
Extras: have office supplies and equipment nearby.
A bit of nature: surround yourself with greenery which, like natural light, contributes to a relaxed and creative productivity environment. You don't need a forest; a few potted plants can do wonders.
Now let's dive in and explore some different and elegant solutions from our Collections that you might enjoy. 
Create your unique home office
Our selection of Furniture, decor, and Home Office Essentials
All these pieces share a common heritage as original designs by famous architects, made of the finest materials, that you will enjoy for years. They are elegant solutions and pieces that can be used in many rooms to complement your home décor and make your work more pleasurable.
Alias' ROBOT by Mario Botta
ROBOT, designed by Mario Botta in 1989, made its return at Salone del Mobile 2023.
It is an old-fashioned ROBOT and can't drive a car or tell us what to do. It looks like a column at attention, has 10 overlapping drawers that can be put in different positions to change its shape and use, and the top drawer has a writing surface.
ROBOT comes from the finest stock and is made of colored stained solid ash. ROBOT is an elegant addition to any room and can be used wherever it is needed, from the home office living room to the home office bedroom, from the home office dining room to the home office den.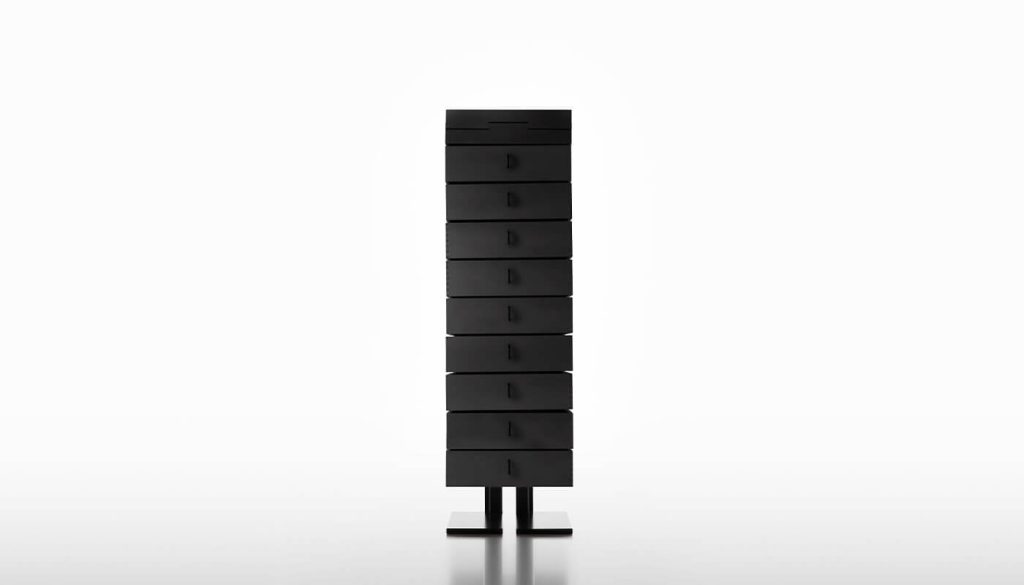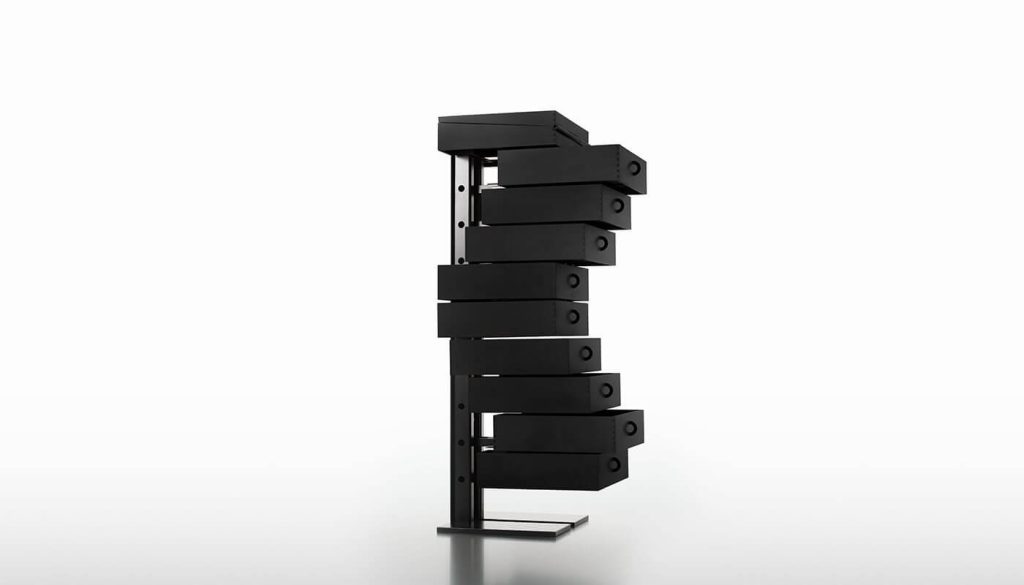 Alias' "bookchair" by Sou Fujimoto
BOOKCHAIR is a fun compact bookcase that hides a chair that can be used and then stored without taking up room. Inspired by the relationship between the human body and architecture, it is perfect for small spaces where you need somewhere to sit. 
Dimensions are 79"x79"x16" and the material is white lacquered MDF. This fun furniture piece is a great home office bookcase and library, perfect to fit in your home office study, living room, dining room or bedroom.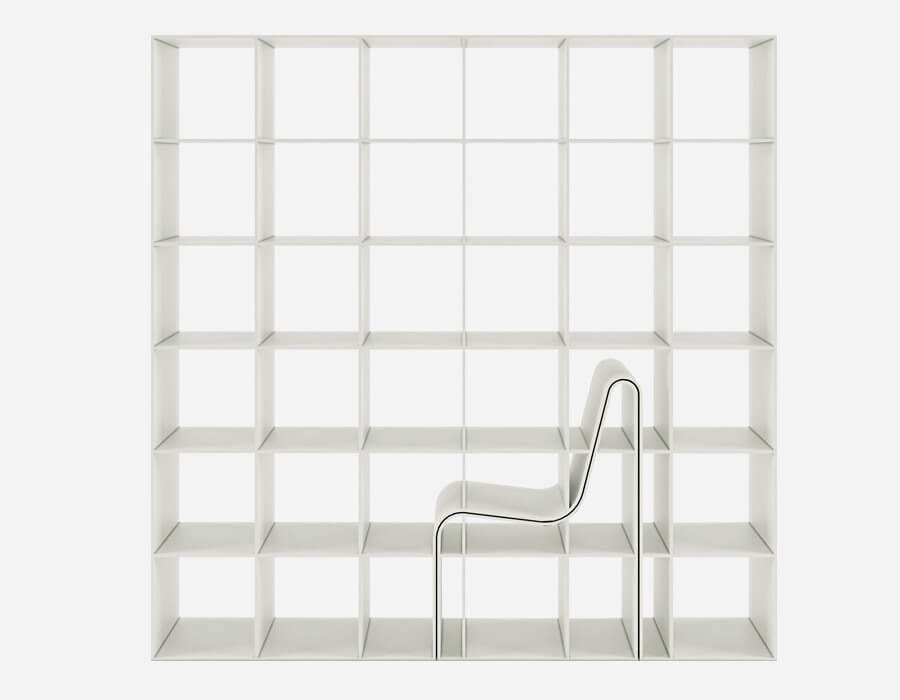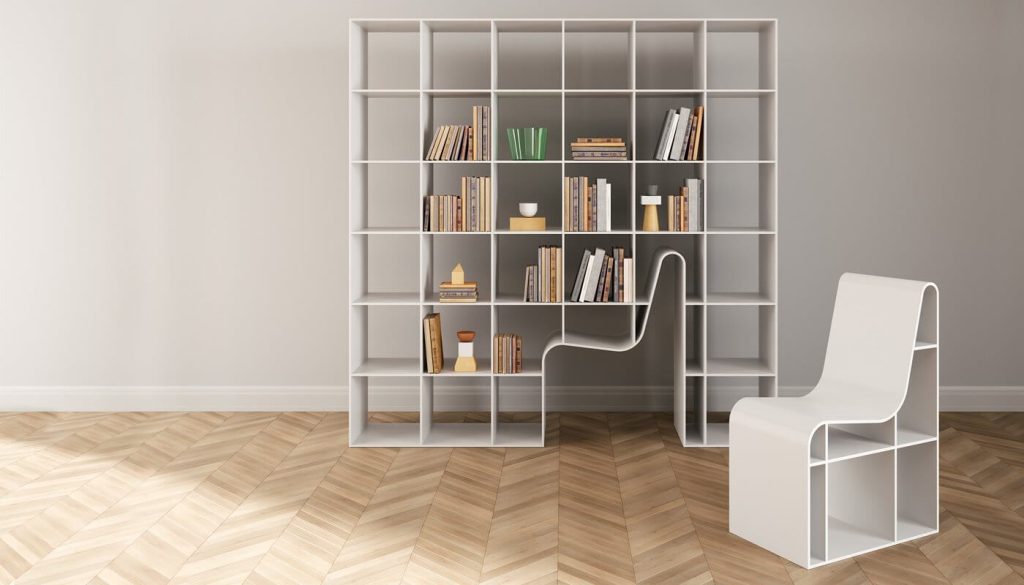 SELECTA is a modular wall system of shelving which can be customized to fit the architecture the living, dining, kitchen, entry, or bedroom either against the wall or free standing as a room divider. Rich and luxurious materials of wood veneer, lacquers, fabric, and glass let you create a visually varied, functional, and elegant wall for books, display cases, entertainment and of course, work. With SELECTA, your home office bookcase or living room can become a working office.
No matter the size of your space, SELECTA can be used for large or small rooms.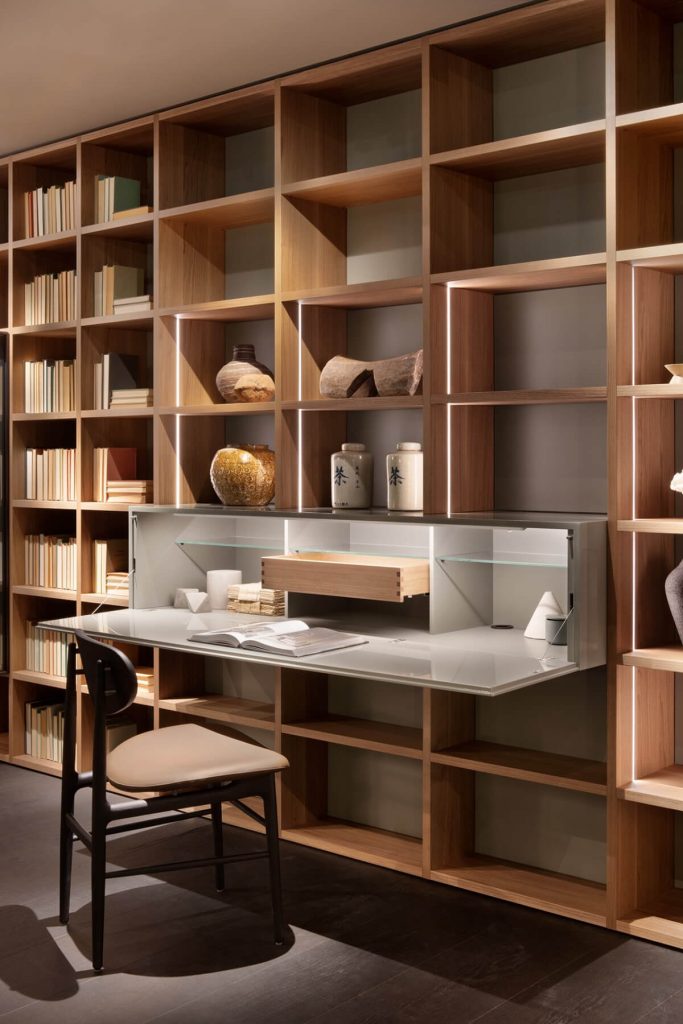 Alias' "Layout" by Michele De Lucchi
The layout secretaire, designed by Michele de Lucchi, stands as a decorative ribbed aluminum oval that opens like a flower to become an office with wood desk and side shelves. It is on wheels so you can hide your office anywhere!
LAYOUT occupies just 4.4 sq. ft. closed and 10.3 sq.ft. when open. Made of structured lacquered aluminum in 4 colors; desk, and shelves in oak veneered MDF, top in lacquered MDF.
A stylish hidden home office desk to fit in your home office study, wherever it may be!
Lema's "Ortis Desk" by Gabriele e Oscar Buratti
Designed for studying and working from home, the ORTIS desk is elegant and sophisticated while practical with its two concealed drawers. The Ortis desktop is available in any of Lema's 70 matt lacquer colors, or wood veneer. Slender metal legs are painted Bronze. A home office desk that can fit comfortably in any room to create the perfect home office living, dining, bedroom, or study.
Lema's "Victor" by Roberto Lazzeroni
Roberto Lazzaroni's hand is evident in the elegant modern design of the VICTOR desk which plays with the juxtaposition of classic solid wood for the structure and lacquer in 70 colors for the desktop, which contains three practical drawers.  VICTOR is the ideal solution for a home office desk that can be fitted in the study, the bedroom or living room.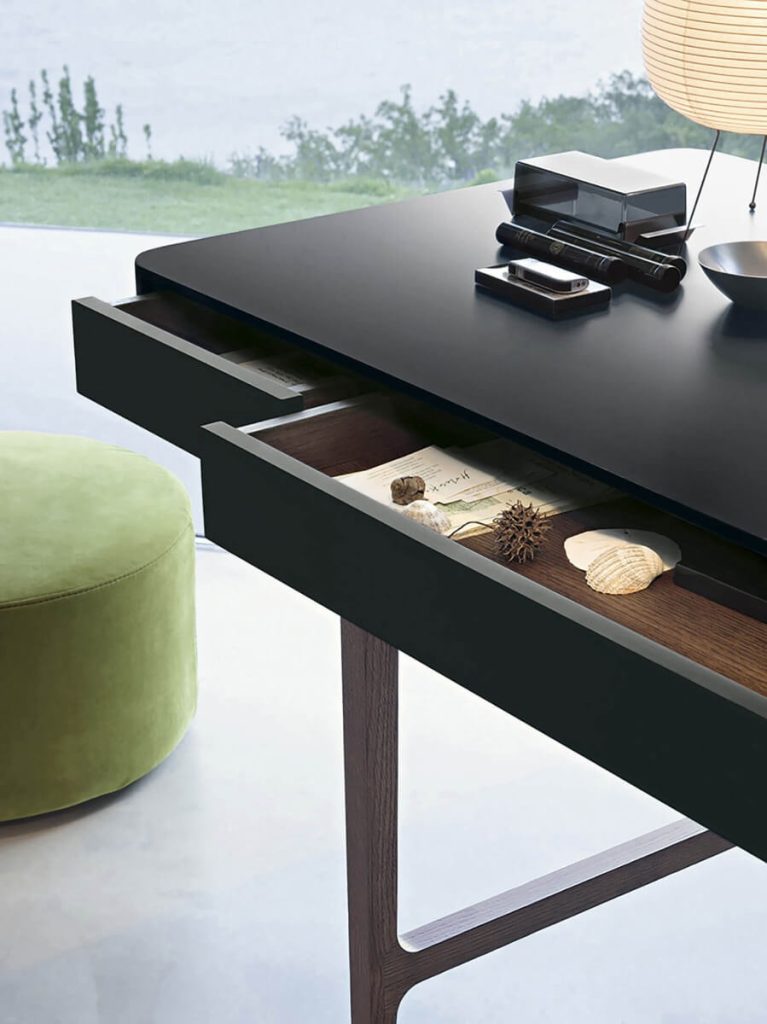 Alias' "Frame" by Alberto Meda
You probably recognize the FRAME chair as it has become an icon of contemporary office seating with its signature polished die cast aluminum structure and mesh seat.
But FRAME can accent or complement any room of your home where you need a comfortable and beautiful chair to work (or eat).  It is available in a range of colors that "work" anywhere.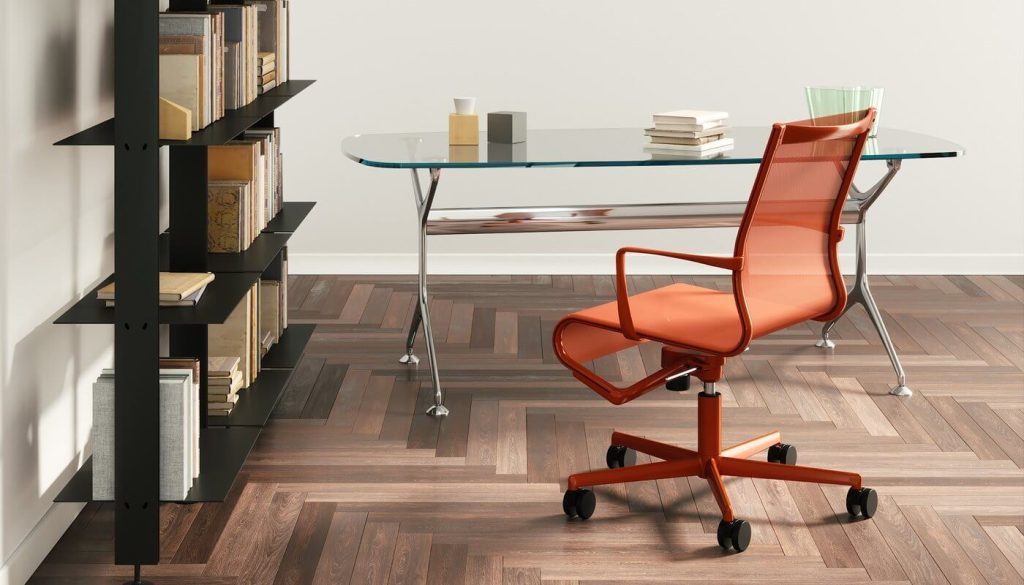 Revitalize Your Home Office
Unlock the ideal blend of style, productivity and comfort in your work environment.
Let us help you create a home office that perfectly caters to your professional requirements and personal preferences.
If you would like to receive information on any of our products or services, please fill out the form below and include as much detail as possible in the Message section.