In Italian Armadio al Centimetro means "wardrobe by the centimeter", that is – made to measure, and tailored to fit like the finest garment.
LEMA was the first company to distinguish itself internationally with this modular wardrobe program, which was introduced in the 1980s. The Armadio al Centrimetro is a free-standing wardrobe system that offers endless ways to organize and store clothing and accessories of every type. It is custom made to fit any space perfectly, while complementing and enriching the décor and surrounding architecture. It is practical and beautiful and adds value to any space.
LEMA offers the best of all worlds: a vast selection of luxury materials and custom solutions like a wood working atelier; PLUS, industrial quality, and reliability.
Armadio Al Centimetro is characterized by a sleek and minimalist design, with clean lines and a neutral color palette. It is made with luxury high-quality materials and finished with care, ensuring longevity and durability. The modular design offers a variety of storage and design solutions, including pull-out pantry shelves, vertical organizers, and built-in organizers in drawers and cabinets, making it easy to find what you need and keeping your clothes and accessories in order. The Armadio al Centimetro is equipped with the latest technology: soft-closing drawers, LED lights, and an integrated charging station for devices, making it functional and convenient.
The most versatile collection of LEMA's Armadio al Centimetro modular wardrobe systems, PRIMA is available in all door types, finishes, and handles to solve any design challenge for a bedroom, living area, or or as shown here with an added work space and outdoor view.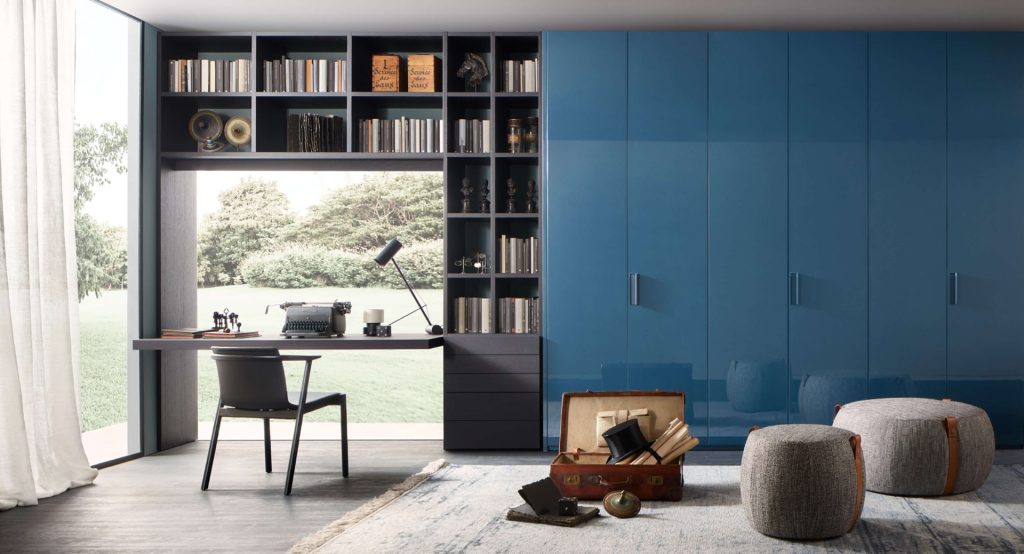 PRIMA design by Officinadesign Lema
The ultimate luxury with leather doors and built in vanity of leather and exotic veneers that can be 100% made-to-order, the pinnacle of all Armadio al Centimetro.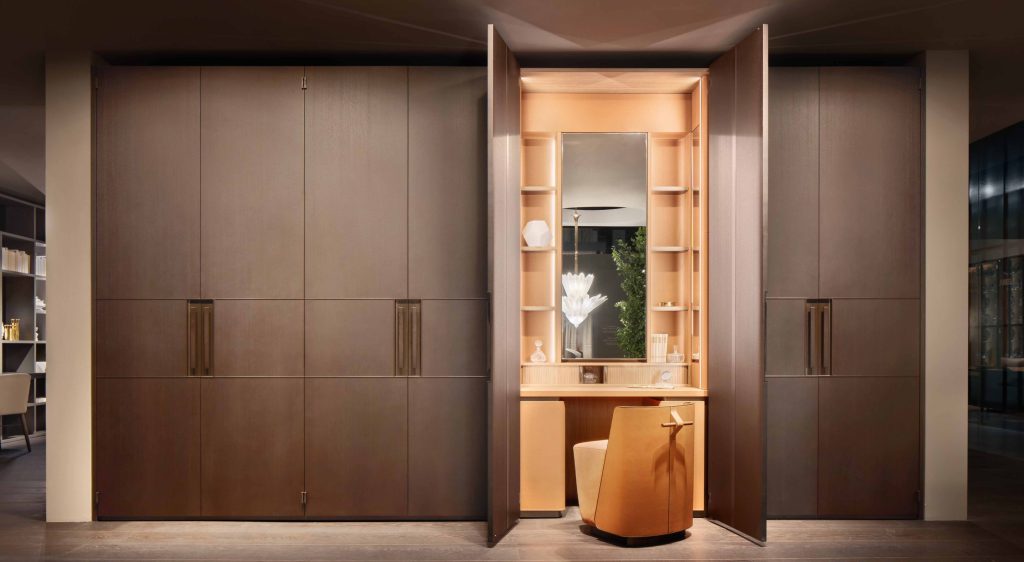 The all-glass solution for any space with a transparent wardrobe and display vitrine that complements its décor, architectural elements, and design perfectly.
Tian design by Officinadesign Lema
Showing the warmth of wood for the design of bedroom, office, or living room in the modular LEMA Armadio al Centimetro offering.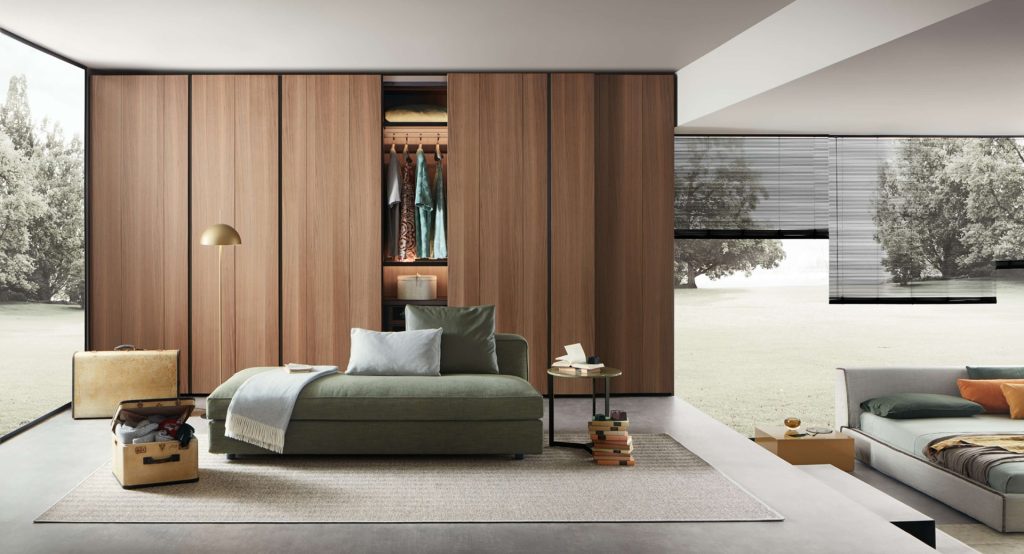 OPEN is the LEMA Walk in Wardrobe solution that organizes all your clothing and accessories where you can see everything at once, choose what to wear, and get to it easily. It's designed to organize and store everything you can imagine—clothing, bags, shoes, coats, jackets, scarves, hats, belts, jewelry, purses, linens, towels and so forth.
Add a bench + dresser and have a place to sit to put on shoes. 
OPEN is manufactured to your exact room size.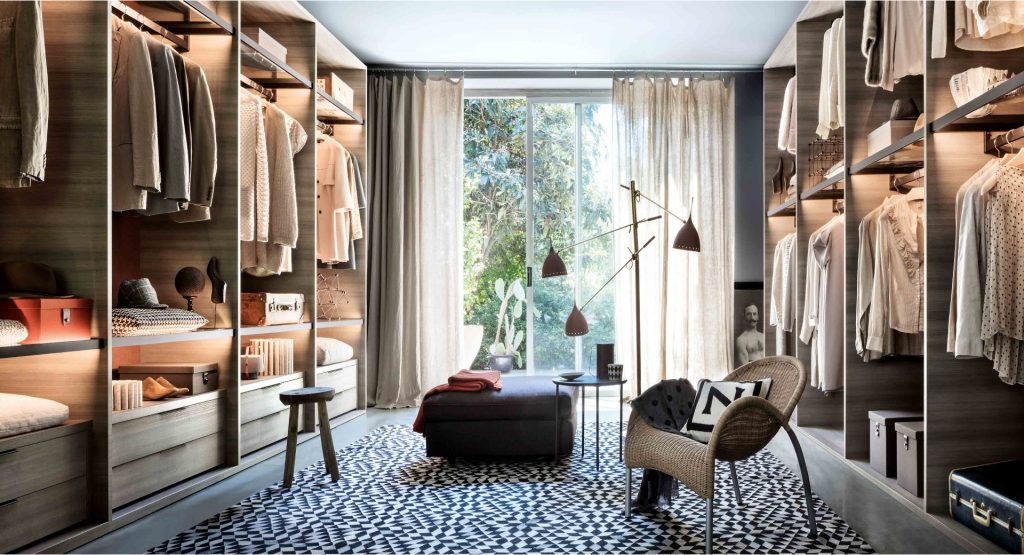 VENTIRE shares all the features of the OPEN system, with the added design benefit of using the existing wall surface as an endless source of decoration, all while saving money.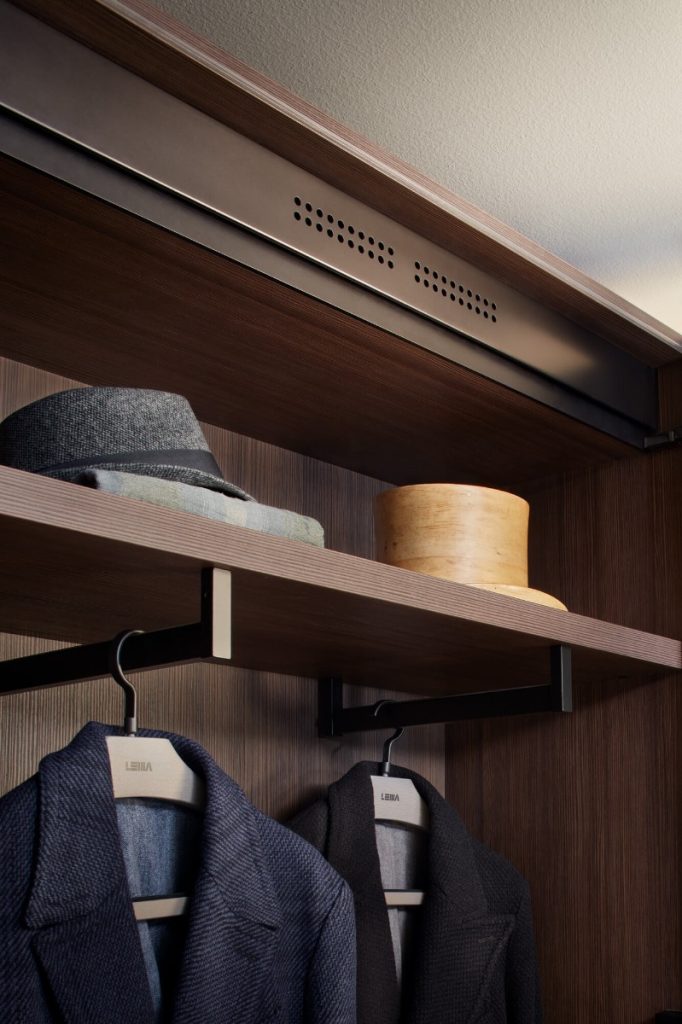 The Wardrobe that Breathes
LEMA's Air Cleaning System (ACS) is The Wardrobe that Breathes. The ACS system sanitizes clothes and shoes -90% of viruses, bacteria and odors. Good for sports clothing, city life, travel, smoke, bacteria, to keep things fresh and clean, and for a generally healthy lifestyle. It helps reduce pollution, allergens, bacteria, viruses and much more all in one.
It uses nanotechnology and a special UV lamp to generate a photochemical reaction within the wardrobe that naturally destroys viruses, bacteria, odors, and mold. The entire wardrobe gets sanitized without any air resistance.
ACS can be added to any WARDROBE series- what a great idea!!!